View the trailer
Stage Centre Productions proudly presents its first production of a play by the world's greatest and most famous playwright, William Shakespeare: A Midsummer Night's Dream.
Directed by Michael James Burgess
Designed and lit by Clay Warner
[fbphotos id=481084845266396 limit=5 rand=1]
Written more than 400 years ago…
…this timeless comedy – one of Shakespeare's most beloved works for the stage – offers us a dose of summer magic in the midst of winter. Four plots intertwine: the events surrounding the marriage of the Duke of Athens, Theseus, and the Queen of the Amazons, Hippolyta; the entangled love affairs of Hermia and Lysander, Helena and Demetrius; the preparations for the performance of a "play within a play" – The Most Lamentable Comedy and Most Cruel Death of Pyramus and Thisbe – by the well-meaning but talentless tradesmen of Athens led by Bottom the weaver; and the forest antics of King Oberon and Queen Titania and their fairy court, including the mischievous Puck.
Special features
| | | |
| --- | --- | --- |
| Rehearsal video |   | Making The Donkey Mask |
| Backstage Tour | – | Striking the set |
"FRONT ROW CENTRE: Stage Centre makes Shakespearean debut"
"For the production on stage at York Woods Library Theatre, [artistic director, Michael James Burgess] has a assembled a terrific cast from the company's roster including regulars Roger Kell, Heather Goodall, Bob Martyn and Frank Keenan."
– Mark Andrew Lawrence | InsideToronto.com
Featuring
Alisa Berindea
Mia Berindea
Holm Bradwell
Heather Goodall
David Galvin Heppenstall
Olivia Jon
Frank Keenan
Roger Kell
James Marshall

Bob Martyn
Thomas McMahon
John Mencarelli
Katie Pinhorn
Ted Powers
Pierre Rajotte
Irit Shomrony
Demetri Tsioris
and Keith Williams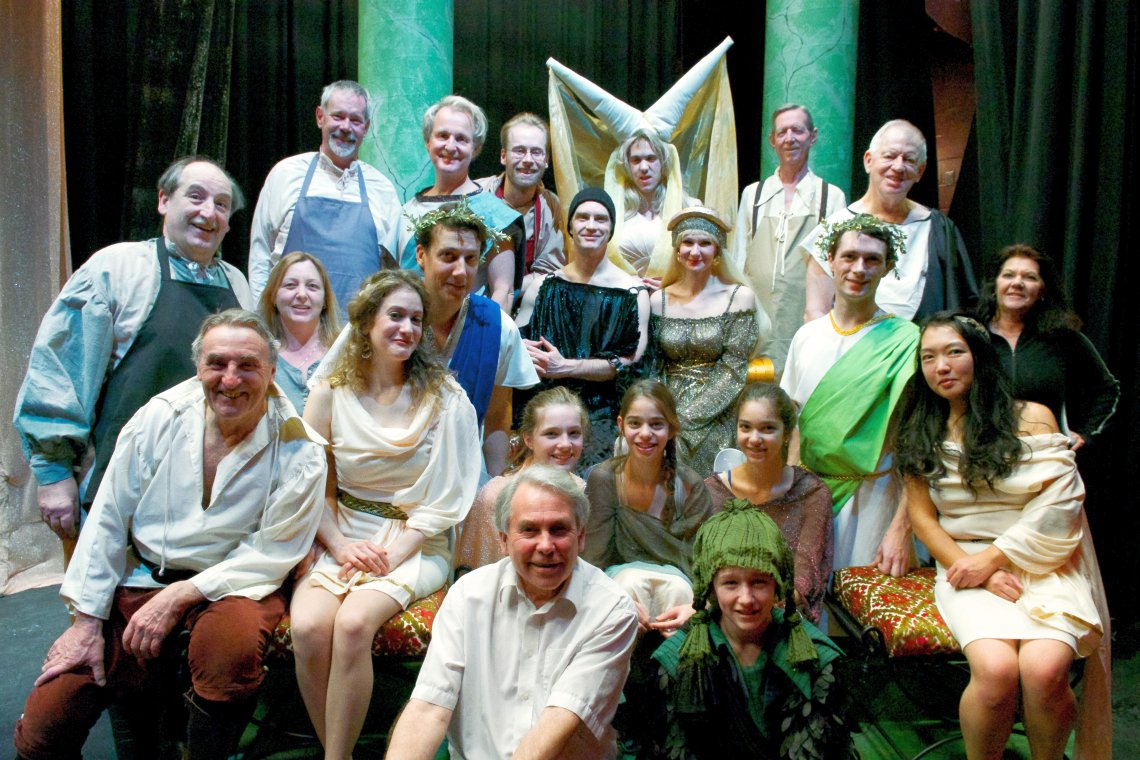 [fbphotos id=481084845266396 limit=5 rand=1]
Enjoy one of Shakespeare's funniest and most colourful comedies…
…full of love triangles, mischievous, fun-loving creatures and over-heated romantic intrigue! Don't miss Stage Centre Productions first venture into Shakespeare! "A deeply poetical and delightful play, satisfying all hearts." ~ Karl Elze